China High Speed Railway Conference
November 9, 2016
The Fast Track: China's High-Speed Rail was held on November 9th at the conference room of the Student Center of Texas Southern University. The symposium was sponsored by the Texas Southern University Institute Confucius (TSUCI) and supported by Hanban / Confucius Institute Headquarters, Southern Texas University, Beijing Jiaotong University and North China University of Water Conservancy and Hydropower.
Conference poster
TSUCI was established in cooperation with Beijing Jiaotong University. We are honored to be invited by Prof. Jing Guoqing, Senior Engineer of US Railroad, Mr. Robert H. Leilich, who from Texas Railroad, Professor Pan Qisheng, Head of Department of Urban Planning and Environmental Policy of Texas Southern University, and Yan Jun, Vice President of the Yellow River Scientific Research Institute of North China University of Water Resources and Hydropower.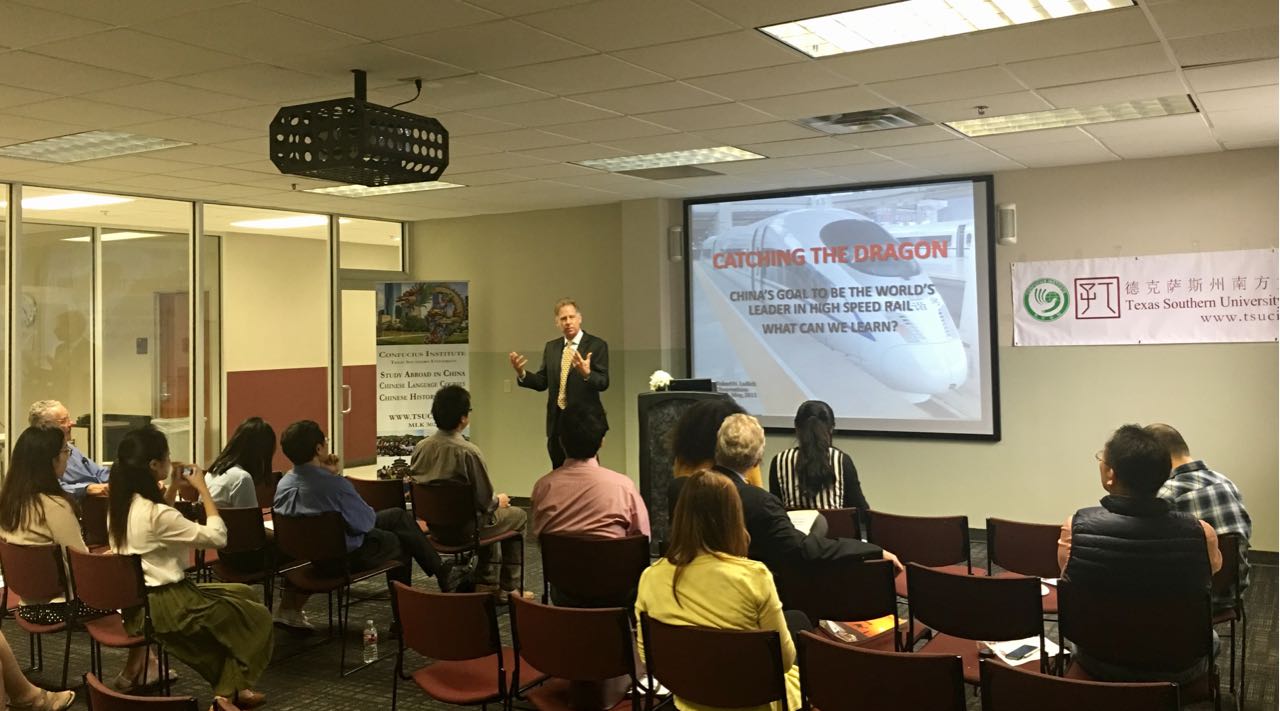 The meeting was chaired by Dr Roger Hart, Dean of TSUCI
Prof. Jing Guoqing's report introduces China's high-speed rail from four aspects: the network layout of China's high-speed rail, the development history of China's high-speed rail, China's high-speed rail industry, and high-speed rail contribution to China's economy and society.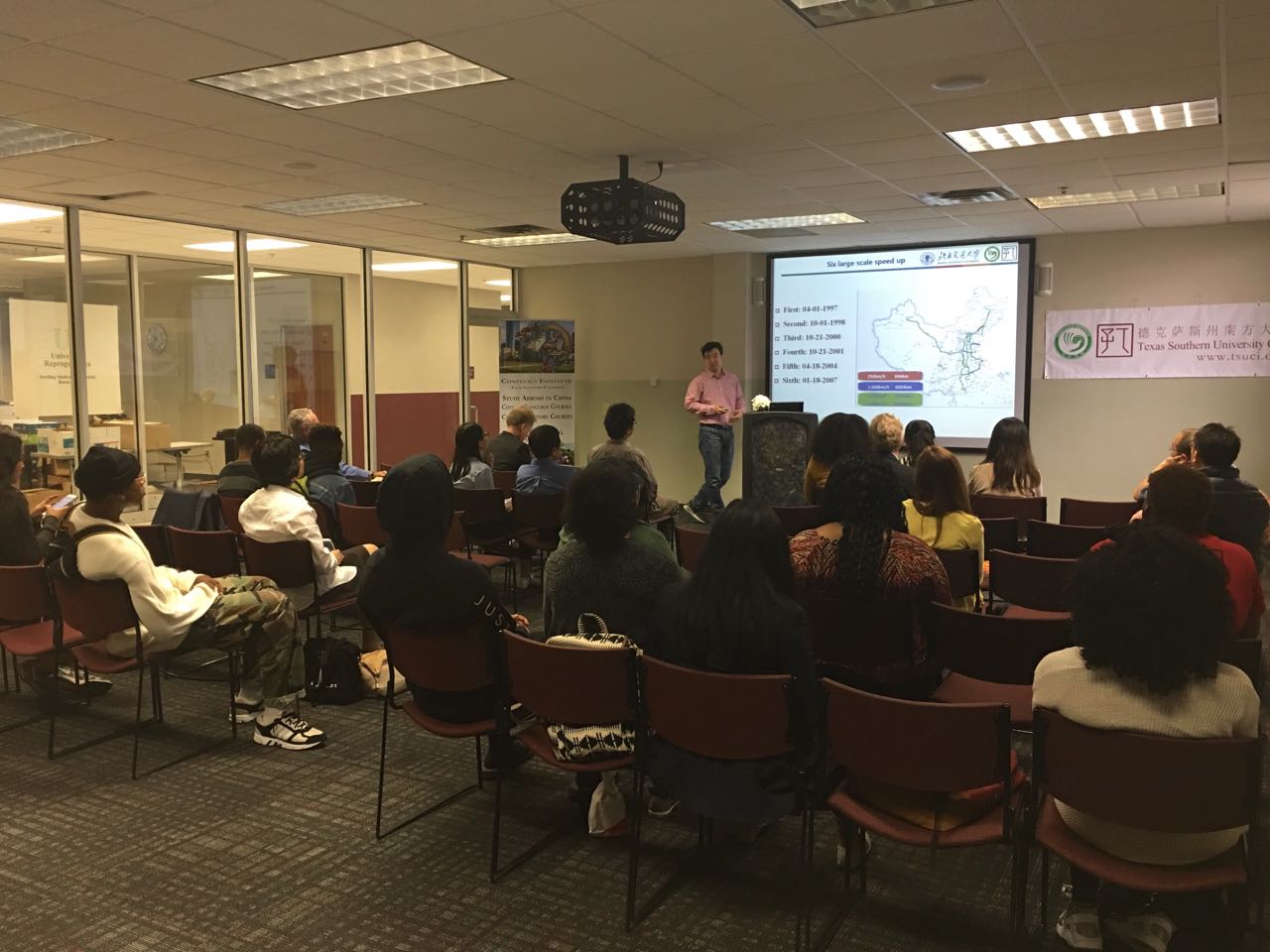 Robert H. Leilich, senior US rail expert, analyzed the Chinese high-speed rail from an American perspective. He praised China's speed, but also made some of the United States and China's railway transport problems of reflection.
Mr. Al Green delivering a speech

Professor Pan Qisheng, a scholar working in American colleges and universities, reports on the topic "American High Speed Rail". Highlighting the California and Texas high-speed rail blueprint.
Professor Yan Jun's report is from the world's high-speed rail concept and history of talking about, and then from a professional perspective on the high-speed rail technology classification, technical parameters and related standards, and finally to show China is building and planning the construction of the eight Horizontal eight vertical "high-speed rail blueprint."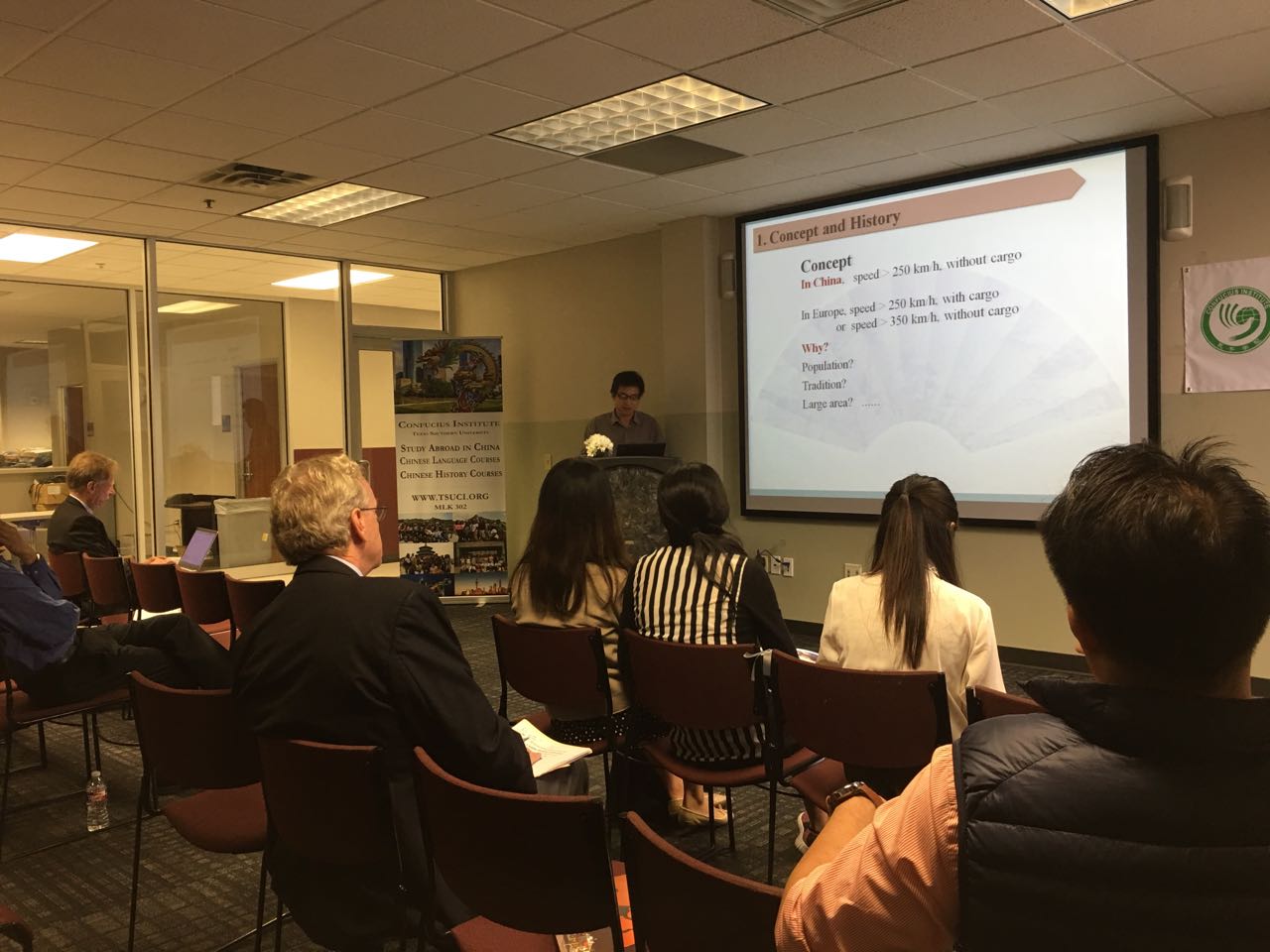 The event attracted a lot of audience interest, attended the meeting with Houston's local traffic experts and scholars and university students. After the lecture, the audience asked questions enthusiastically.
Over the past decade, from the introduction of technology to the world's leading high-speed rail construction in China frequently refresh the world record, known as China's economic development miracle. "China's speed" in the convenience of people travel at the same time, also won the attention of the world's attention. In this context, the development of China's high-speed rail to further demonstrate to the Americans, Confucius Institute has an inescapable responsibility and obligation.